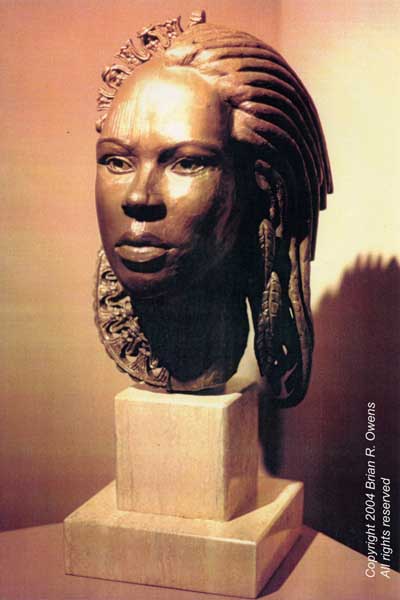 Noble Origin
Cast bronze, edition of 7, height: 20" including base
Noble Origin is inspired by masks created in the African Nation of Benin at the height of its power during the 16th century. It is also inspired by the African-American at the height of his challenge in 20th century North America. The ruler of Benin commissioned his guild of artists to create masks that were worn by his leaders as symbols of their allegiance and authority. These artists had a special role in society, and a right and duty to represent in their creations the communities deep ancestral and religious beliefs. Their art spoke of power, purpose and connections to the past during a time of unprecedented challenge and change.
This sculpture speaks to today's African-American and gently reminds him of noble origins as he is hurtled into a new millennium on what Martin Luther King, Jr. described as
"the rushing locomotive of time".