What's New in this Web Site?
This page was updated: March 2019
A bronze bust for a new building in Naples.
Click for more.
What's Owens Been Up To Lately?
March 2019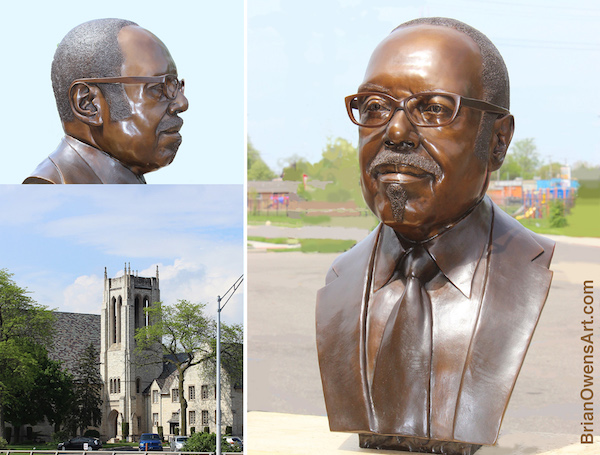 A life-size bronze bust of Dr. Charles G. Adams.
Click for more.
Owens' latest short film on Vimeo.
Click for more.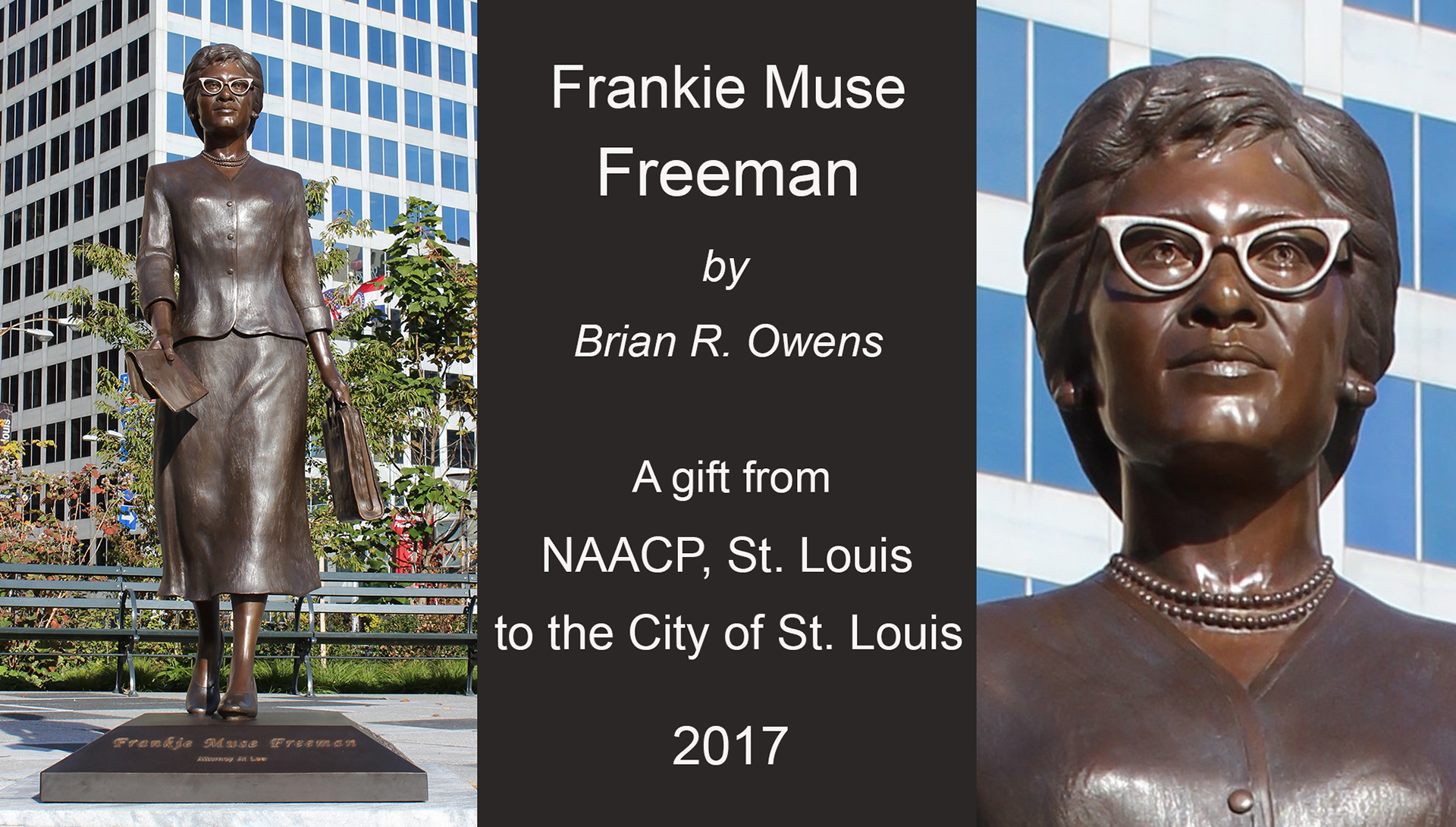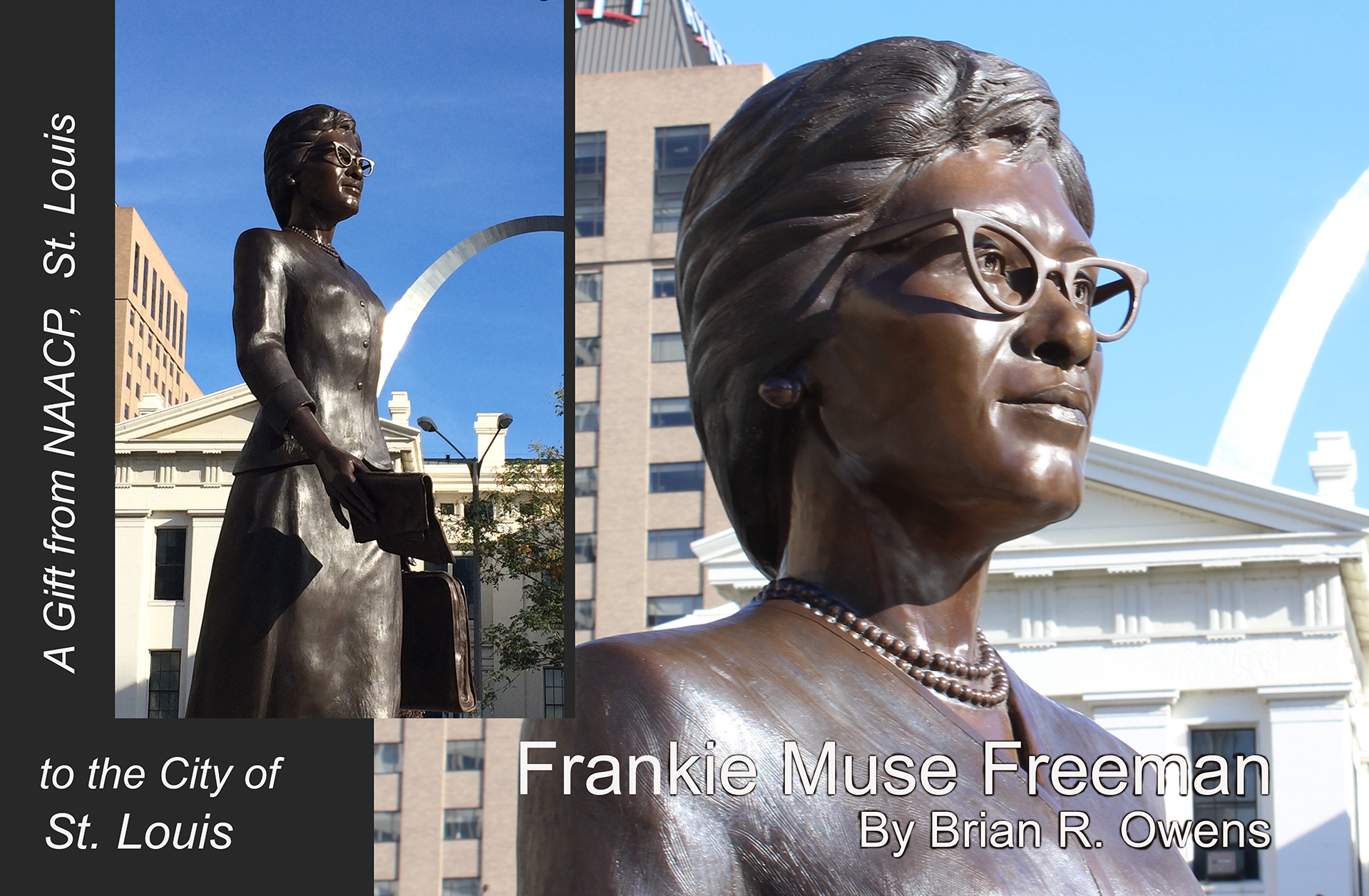 Frankie Muse Freeman - The Sculpture

The over life-size bronze of Frankie Freeman was installed in Kiener Plaza - a park in downtown St. Louis - and dedicated on Nov. 21st, 2017
Click on any of these photos to see more exclusive shots.





Depart ye hence to Instagram, son!

You have to join Instagram first, but don't sweat it. It's FREE!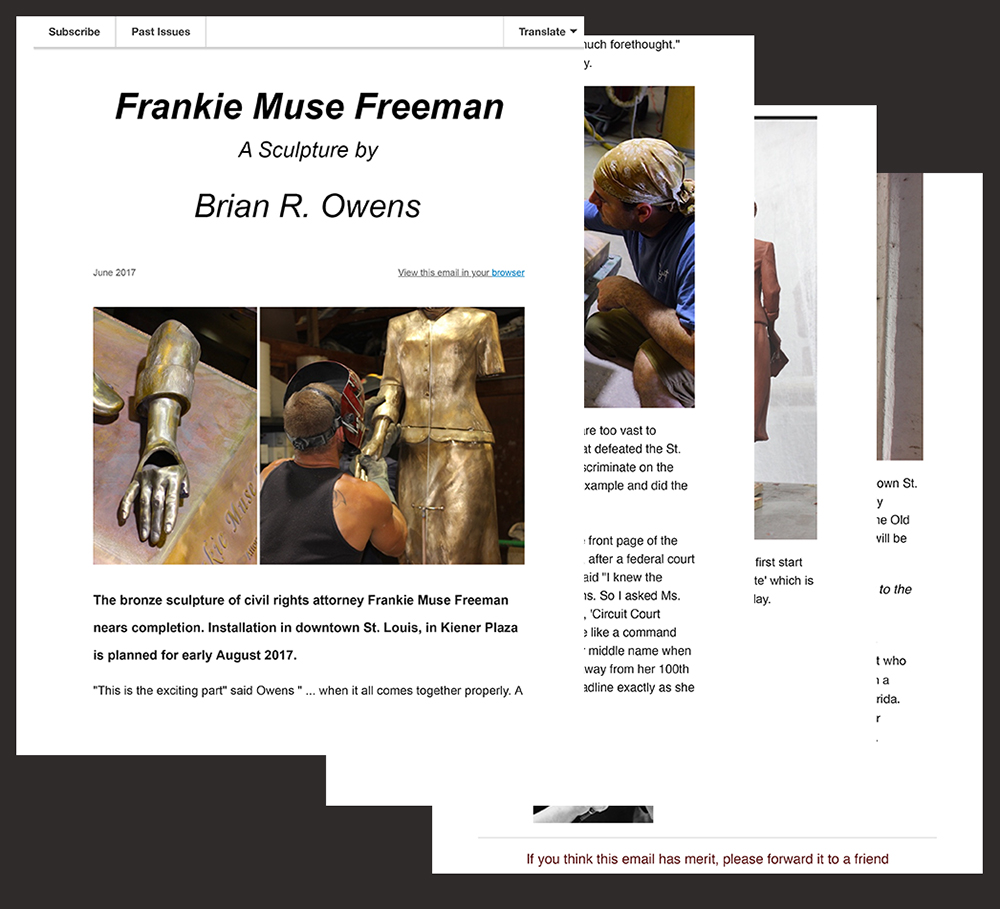 Brian Owens Art - THE NEWSLETTER

The new Newsletter will deploy several times a year, depending on how exciting the year is. 2017 has been a wild ride. Newsletter No. 1 hit the press in July 2017.

Care to take a look at the premier issue? Just click on the image above.
Then, click on the button in the upper left-hand corner to SUBSCRIBE!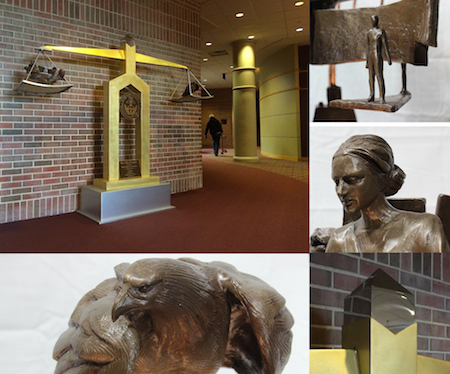 We the People
In 2016, Richard Bennett and Brian R. Owens joined forces to create a sculpture commissioned by MSU College of Law.
"We the People" installed in the fall of 2017.


The TOUCH St. Augustine Audio Tour is UP!
Owens co-wrote and narrated an audio tour of seven historic sculpture that are located within walking distance of each other in downtown St. Agustine, Florida. The audio tour my be accessed via internet or mobile phone. A small "marker" near each sculpture lets visitors know what to do. The markers are also in braille so the entire project is accessible to the blind.

This project is the brain-child of the St. Augustine Art Association and was financed by a grant from the Florida Humanities Council.
Owens produced the art shown here for his Facebook page as work proceeded. Owens' mini audio-bio is included at the end of the tour.





The Frankie Muse Freeman Project
on Instagram
In 2016, Owens was commissioned by the NAACP St. Louis to create a bronze sculpture of civil rights attorney Frankie Muse Freeman. It is a long process, involving many steps. The project was documented on Instagram, which is a good "platform" for this sort of thing. You may have to open a free Instagram account if you already have one. It takes all of a minute or two.

The sculpture is slated to install in Kiener Plaza in downtown St. Louis, MO the fall of 2017.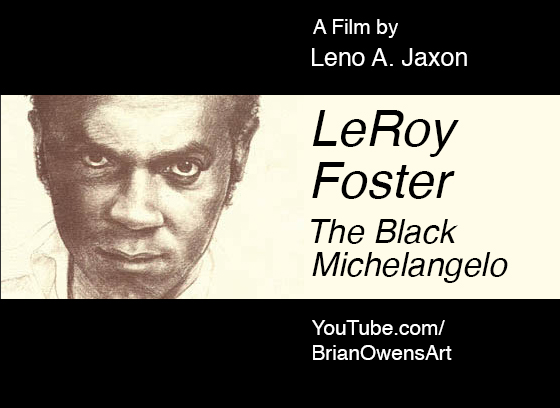 This recent addition to my YouTube channel is special to me because LeRoy Foster is one of my artistic progenitors. Foster was one of the forces that shaped the small art world into which I was born. "LeRoy" is French for king and to many in Detroit he was a king.
This short film by the late Leno A. Jaxon explains why.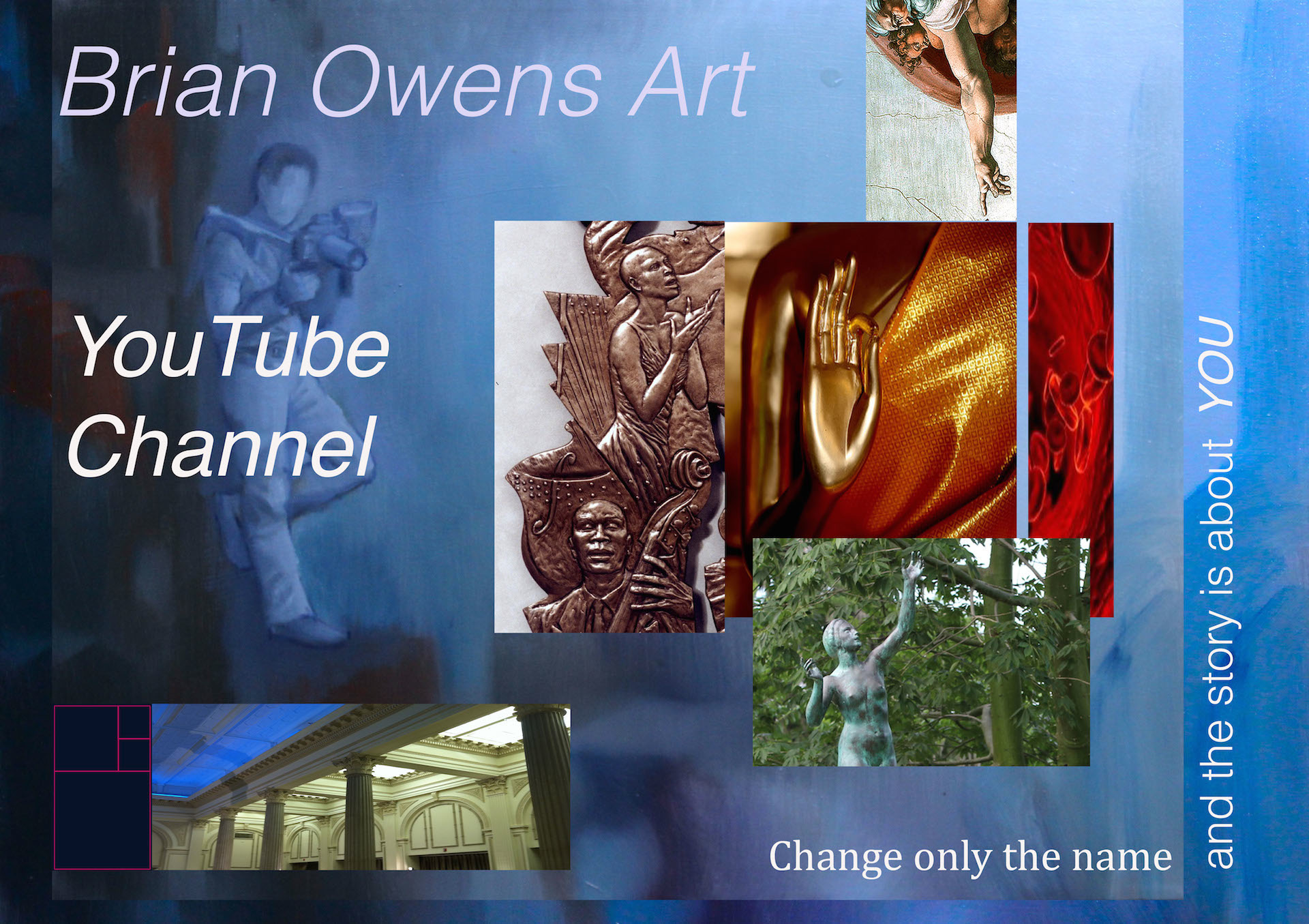 Today (Feb 16, 2015) marks the official launch of Owens' budding YouTube Channel named: Brian Owens Art

This channel is about Owens' artistic experiences and will gradually expand to include short movies and interviews on art in its many forms. New "shorts" are in process with titles such as "450", "Luminous", "People I Know" and "Studio Life".

Subscribe to this channel if you like and be alerted the instant the next one is released.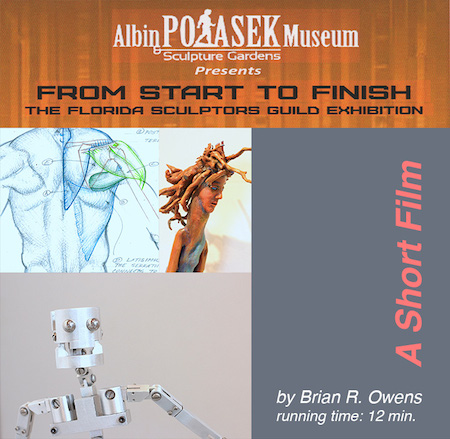 Owens launched this short film about an art exhibit that he participated in entitled "From Start to Finish"

DVD cover art images courtesy of sculptors Jene Omens, Cheryl Bogdanowitsch and Brian R. Owens. Banner design courtesy of Rachel Frisby.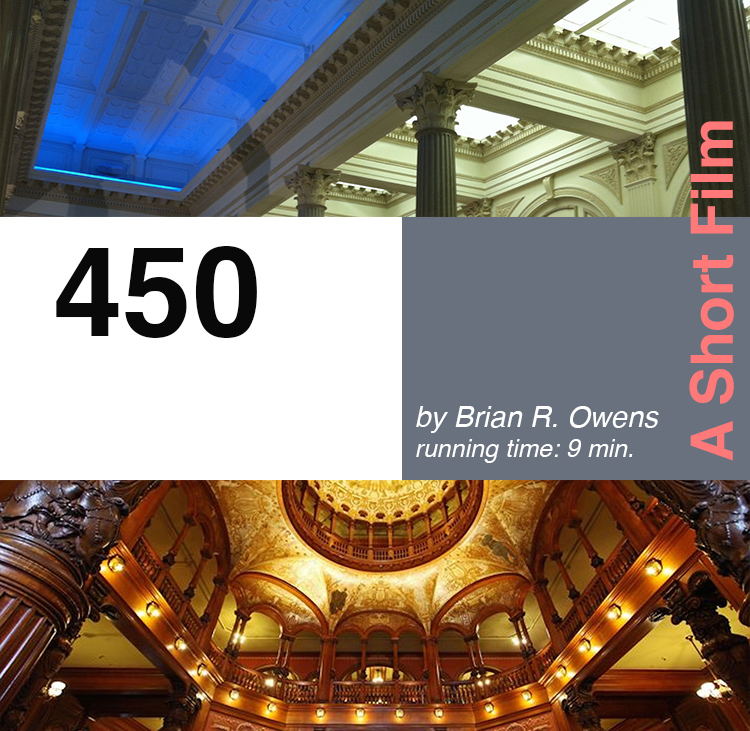 Owens is in the process of completing a short film entitled "450", a personal view of events in St. Augustine on July 2 2014, the 50th anninversary of the signing of the Civil Rights Act of 1964, during this year, the City's 450th Commemoration.

Stay tuned for details of its release!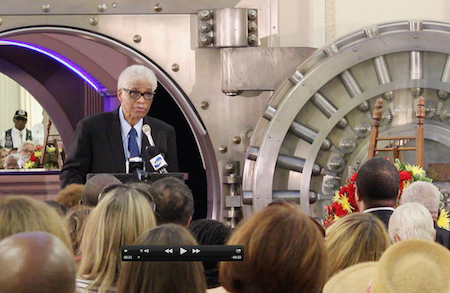 The St. Augustine Foot Soldiers were remembered on July 2nd 2014, the 50th anniversary of the signing of the Civil Rights Act, in "The Vault", downtown. Dr. Robert B. Hayling, the father of the Movement in St. Augustine, is at the podium.

Dr. Hayling was a dentist who was kidnapped by a mob and his hands broken with a pipe. His wife was nearly killed when his house was shot up. When City officials tried to coerce teen aged marchers into making statements that could be used to arrest him, they refused to cooperate and spent 6 months in jail with adults and at a notorious reform school where bodies of "missing" teens have been recently dug up. His feet are made of clay, as are mine. Still, the marvel of stainless steel behind him seemed a fitting backdrop.
CLICK HERE to learn more about the 450th Commemoration.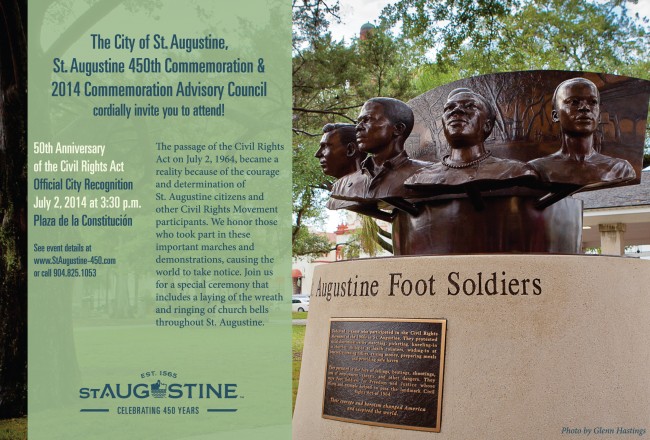 Owens' friends and associates in St. Augustine have waited a long time for this, their city's 450th birthday party. They celebrate it every 50 years. The planned exclusion of African Americans from the last one - in 1964 - is what triggered the Civil Rights movement there. This link takes you to a Commemoration web site.
Owens was commissioned to complete the St. Augustine Foot Soldiers Monument so it would be ready for July 2nd 2014, the 50th anniversary of the signing of the Civil Rights Act.
Photo credit to Glenn Hastings.
More photos are coming!
CLICK HERE to learn more about the 450th Commemoration.

In January 2014 The Florida Historical Society published its new book Reflections from ZORA! Celebrating 25 Years of the Zora Neale Hurston Festival of the Arts and Humanities including an essay by Owens entitled "A Basin in the Mind", a meditation on the clever maneuverings of Zora's life and the example it provides for the contemporary working artist.
CLICK HERE to learn more and order a copy
In January 2014 The Portrait Society of America awarded Owens "First Merit" in the 2013 Members Only Competition
(in the category of Commissioned Portrait Sculpture)
for "Subject No. 2".
This is an element of the St. Augustine Foot Soldiers Monument shown on the cover of FlaVour Magazine below.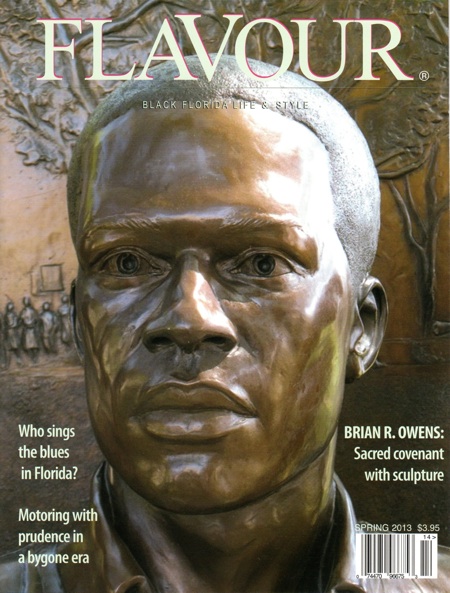 FlaVour Magazine, Spring Issue 2013.
Owens' reports that his "faith in journalists is hereby restored. If they write for FlaVour, that is".

Subscriptions are $16 a year.
FlaVour is published by FlaVour Media, Inc., 14004 Roosevelt Blvd., Suite 614E, Clearwater, FL 33762. (727) 573-5303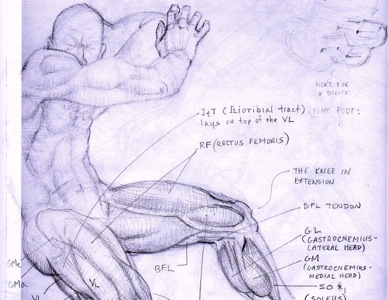 "Soleus". One of Owens' drawings in From Start to Finish, featuring the work of the Florida Sculptors Guild at the Albin Polasek Museum in Winter Park, FL from May 7 to July 21, 2013.
Depart ye hence, for the Polasek!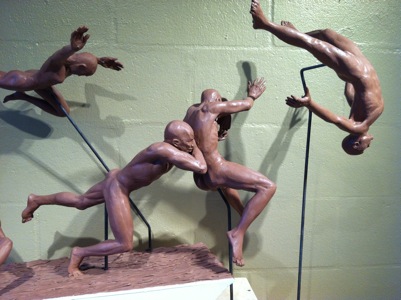 "Transmineo". Owen's piece in From Start to Finish, featuring the work of the Florida Sculptors Guild at the Albin Polasek Museum in Winter Park, FL from May 7 to July 21, 2013. If you've not been to the Polasek, you're in for a real treat.
What do Easter eggs, electron clouds and the dimensions of Owens' head have in common? Peek through this 2-minute virtual window that asks the question: "Who is Brian R. Owens?
Running time: 2 minutes.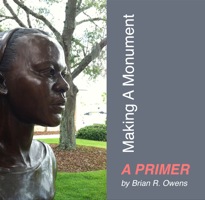 Check out Owens' short documentary about how bronze monuments are physically made on his new YouTube Channel.
Running time: 8 minutes.

Now anyone can locate, identify or research Owens'
St. Augustine Foot Soldiers Monument from anywhere,
using their smartphone or computer.
Listen to his latest podcast of 11-12-2012
on Museum Without Walls powered by Culture NOW.
Owens received the "David C. Brotemarkle Award" from the Florida Historical Society, during its annual conference in Tampa on May 24, 2012.
Owens was awarded a seat (along with 19 other artists) at the Creative Capital Foundation - Professional Development Program, Advanced Artists Workshop at Florida State University in May, 2012.

A sculpture of Dr. Arthur Harold Parker

Enjoy a new stream of photos from the
Foot Soldiers project on ...


CLICK TO OPEN IN ANOTHER WINDOW

Recent articles posted on Culture Builds Florida, a recent invention of the State of Florida ...