Dr. Larry R. Handfield, Esquire
Born 1957
Cast bronze, unique, height=18"
Commissioned by Bethune-Cookman College
Daytona Beach, Florida
Dr. Larry Handfield: "The Exemplary Steward"

During the last decade I have met a number of extraordinary men and women. Astronauts, politicians, generals, entrepreneurs, educators and artists. The philosopher Ayan Rand called people like these "prime movers". Even among the prime movers there are men of unusual achievement, like Dr. Larry Handfield. Larry Handfield is a lawyer, philanthropist and a tireless advocate for and trustee of Bethune-Cookman College (BCC), in Daytona Beach, Florida.

Larry Handfield graduated from Bethune-Cookman College and holds two doctorate degrees in law, one from BCC and the other from Howard University, Washington, D.C. He is a partner in the law firm of Pitts, Handfield and Valentine with offices in Miami, Florida. As chairman of the Public Health Trust, Larry Handfield is a decision-maker who is trusted in the allocation and spending of millions, perhaps billions of dollars that affect the lives of many thousands of people. The Trust is responsible for healthcare coverage in Miami-Dade County and includes two major hospitals. Larry Handfield is also highly skilled at earning his own money.

What lifts Larry Handfield in his class of extrodinary men is his generosity. He has given enormous amounts of money to Bethune-Cookman College and I suspect that he is one of their most active fundraisers. Larry Handfield is a pleasant mild-mannered, articulate man with a disciplined, analytical mind. He is always well-dressed and impeccably groomed, but is otherwise ordinary in appearance. From his demeanor, it appears that his feet are firmly planted on the ground.

There are many ways to measure a man's life. The "parable of the talents" would have us consider how well we develop and use our talents and how good a steward we are. My sense is that Larry Handfield has prepared himself by honing every skill that could be an asset or a tool. He is under the age of 50 and I am sure that his story is far from over. I've got a feeling that his greatest triumphs are yet to come.

The portrait was unveiled on October 1st, 2005 during a reception for Larry Handfield held in the recently completed Performing Arts Center on the BCC campus. The reception was concluded by Cynthia Wilson who spoke, sang and offered a benediction. She said it best in her opening statement ...
"Larry Handfield - The Exemplary Steward".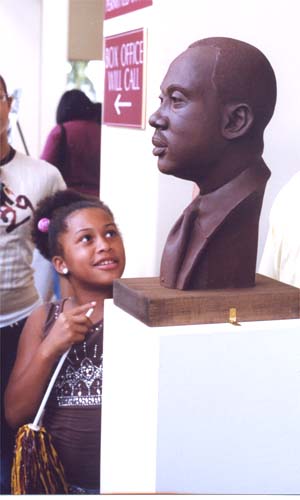 A cast plaster model was prepared for the unveiling.
This kid knows good art when she sees it.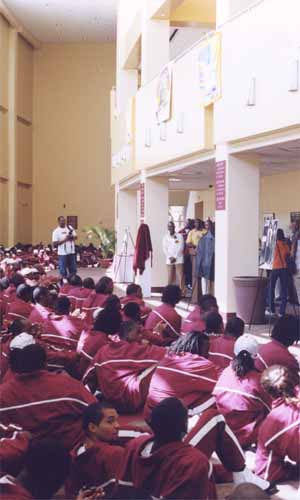 Reception and unveiling of the portrait of Dr. Larry Handfield
Performing Arts Center
Bethune-Cookman College
Daytona Beach, Florida.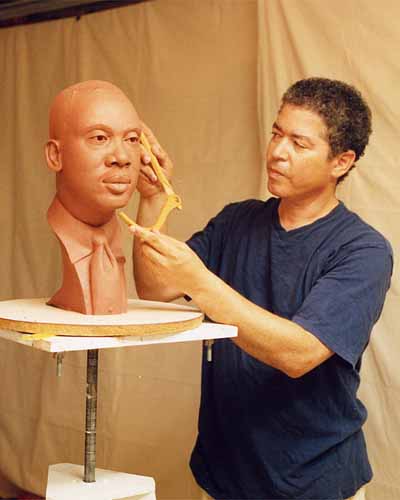 Brian R. Owens - Artist, at work in his studio.
The process begins by modeling the portrait in the clay.