The Bronze Bust and Bronze Portrait
- This Page is Under Construction -
Welcome, FaceBook Users!

My name is Brian R. Owens.
I'm a professional artist with a studio in central Florida. I've been sculpting and painting for about 25 years.

You probably clicked on my FaceBook ad and landed on this page.
The intention is to answer the questions people tend to ask about bronze busts and bronze portraits when they call me, but also to drill down into the subject a bit further and to put it all on one page. If you'll scroll down this page you'll see a number of short videos where I talk about options, prices, and how much time to allow. I talk about the working method - the practical steps of getting it done from your point of view. I talk about installation and show an example of how I helped a client build a pedestal to display their portrait bust. Then I offer some general recommendations.

The focus is not on me and how I physically make a bronze. It's about you, what to expect and how you can help set the stage for exceptional results.

Also, this is just one page in a web site with a lot of pages. If you care to have a look, just click on one of the buttons on your left or at the top of the page.

Enjoy!

If you'd rather speak with me directly, please call anytime after 10 AM Eastern time.
Call 386-956-1724
Options, Price Points & Time
TRANSCRIPT
Prices are determined on a case by case basis but generally fall between $6000 and $10,000, depending on the amount of surface area and the level of complexity.

I'm talking now about sculpture that only includes the head and part of the upper body. Two of the shots that I included in the Introductory Video actually belong to life-size figures. I showed them because they're good examples of my skill level.

A bronze portrait is a life-size head that includes a collar and the knot of a tie, and perhaps an indication of where the suited shoulders (the trapizious) begins. This will be closer to $6000.

A small bronze bust includes a life-size head and artistically truncated shoulders (trapezius), is fully enclosed in the back but does not include the full girth of the chest. This would be closer to $9000. This compact type of portrait bust is popular. It has a contemporary look and looks great if it is not necessary to show the full width of the deltoids.

A large bronze bust includes the "round of the deltoids", artistically truncated upper arms. The suited figure is fully sculpted back and the bust retains the girth of the chest. That brings you up to $10,000.

Regading complexity: Bronze rims and certain types of hair add to the price. Sometimes people wear glasses to the point where it becomes a feature of their face. It's one of the things that makes them identifiable. If this is the case, then consider including bronze rims. This adds about $600 to the price but may contribute greatly to the work.

What the Price Incluses: The price includes everything: My travel expenses, photography, delivery, state taxes if they apply. If the bronze is to be connected to something you have already, such as a pedestal, then that's included. If you need a base, then the price includes a short natural stone or man-made stone base. If you decide that you need a larger stone, then I'll charge you whatever it costs me to have it made and install it for you. Communicating with contractors and providing "shop drawings" with dimensions is no problem. That's a service that any professional should provide at no additional price.

You should allow 6 months for the sculptor to complete and deliver the work. That's six months from the postmark date on the envelope that delivers your downpayment to the day the work is delivered and installed.
TRANSCRIPT
The project is divided into two parts: First, the Subject is modelled in clay, then the bronze bust is created as a separate process. The clay model is the creative part of the process. That's the part that the client is involved in.

If the Subject is alive, I work from a combination of photos I take myself and from life. My access to the Subject results in a better sculpture. Even the photographs I take myself come with built-in limitations and don't tell the whole story about the surface of the face.

The Working Method or - how the client and sculptor interact - changes from one project the next. Each project is different. In one case I'm working from a handfull of photos with input from relatives. In the next project, I may have limited access to the Subject, but can pull measurements and take my own photos.

Usually, I travel to visit the Subject. There's a lot to be said for meeting the Subject in their own space, where they're at ease. Usually, I need to visit the Subject two times, maybe three. First to pull measurements and take photos. Then again to check the clay model and make adjustments.

You should allow 1-1/2 hours for both my first and second visit. If I have come back again to check or change something, it won't be anything major. It will be something small that can be done in an hour or so.

When the client approves the clay model, I proceed to create the bronze. I don't pour bronze over the clay ... the clay still exists. The bronze bust (or bronze portrait) is created as a separate process.
Delivery and Installation
TRANSCRIPT
Usually I deliver and install the bronze bust or bronze portrait myself. If its too heavy for me to handle, then I'll bring someone with me to help.

The work I did for Hartford Memorial Baptist Church in Detroit, Michigan is a good case study. After visiting the church and looking at the places they had in mind to put it, they came to a decision. They wanted a stone pedestal to put the sculpture on. They wanted it constructed so as to be permanent and attached to a wall in an area where there is a lot of traffic.

I arranged for a local contractor to build the pedestal and supplied them with a drawings they needed. Naturally, the client was "in the loop" the entire time, deciding what color stone they wanted ... the size of the bronze plaque and so on ... the broad strokes but not the details. The pedestal was complete when I arrived. I have everything I need to permanently connect the bronze to the pedestal even though it was closed off with no way to get behind it.
TRANSCRIPT
Aside from selecting a sculptor that you trust will do the job, the greatest favor you can do yourself is to allow the sculptor sufficient time. Its natural for organizations to begin their fundraising too late or to experience internal delays. Non-profit organizations are often setup to be slow and deliberate in order to reduce risk. Then they find themselves facing a quickly approaching deadline, usually connected to an anniversary or some date on the calendar that's set in stone. Then, they're on a mission is to find someone who will get the job done fast. They may say "we just spoke to a sculptor who can do it in six weeks". The truth is anyone can crank out a mundane bronze fast. You can build a house in a week or so, but would you want to live in it? Rushing is a mistake and you will pay for it it reduced quality and visual impact.
"Artwork ... by Owens ... express states of being that are so complex they are almost impossible to capture."
Laura Stewart (now retired), Correspondent / Arts Writer, News Journal, Daytona Beach FL (Quoted from one of her articles)
"Thanks ... to Brian Owens, the sculptor, who did an absolutely fabulous job."
Shelbe Freeman Bullock, Daughter of Frankie Muse Freeman (Quoted from the Frankie Muse Freeman Statue Dedication Ceremony)
"Brian is a thoughtful and knowledgeable professional ... We are extremely satisfied ... Our expectations were high and Brian still managed to exceed them."
Barbara H. Vickers, President, St. Augustine Foot Soldiers Remembrance Project, Inc. (Quoted from her letter of recommendation)
Please do not hesitate to call me at 386-956-1724 anytime after 10 AM eastern time. I may be hard to reach on Sundays.

You may be exploring the idea and in no particular rush. That's good, but I want to make sure you remember me when it comes time to decide who to work with. Please consider signing up for my newsletter as a way of staying in contact with my work. All I need is your first name and email address. Just click on the link below and fill out the short form.




Again, this is just one page in a web site with a lot of pages. If you care to have a look, just click on one of buttons on your left or at the top of the page.


"It's almost as if the artist makes a contract with the artwork itself", says Owens in this short, parting message.

Thanks for visiting!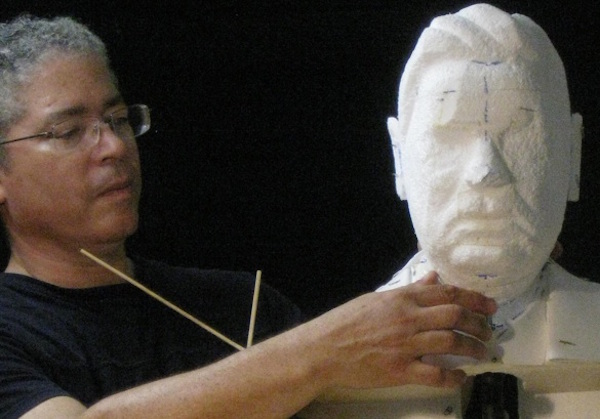 Brian R. Owens is a second-generation professional artist; a sculptor and painter, schooled in the methods and materials of classical, traditional fine art. Owens' studio is based in central Florida about half an hour north of the Orlando metro area.

For more information, call Owens directly at 386-956-1724 anytime after 10 AM Eastern time. Click on the link below to review his online biography and resume.

CLICK HERE to Open his Biography and Resume in a Separate Browser Window