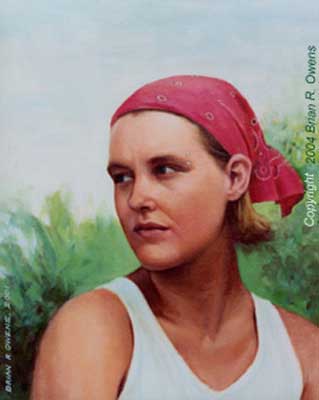 April
oil on canvas 18" x 24"
The Process of Portrait Painting

PRICES
Call Owens anytime for prices. He will quote your price based on the following criteria:

*The number of subjects in the painting
*The age of the subjects
*The "size" of the painting:
The smallest size is just the head and shoulders.
The largest is a lifesize full-length painting.
*Additional objects, such as musical instruments and animals.

WORKING METHOD
To complete the portrait painting, Owens combines working from photographs and working from life. It is not necessary for the subject to "sit" for the artist during the entire process. The subject may have strong preferences about apparel and the way in which they are depicted. This is natural and a good artist is not put-off by it. A good artist is like an antennae that detects, as much as is possible, the subject's personality, body lanquage and personal interests. If you have any concerns go ahead and discuss them with the artist early on. Once you have selected an artist for your portrait painting, trust him to do what he was born to do.

Owens will usually shoot several rolls of film himself at a location that is relevant to the portrait painting or where the subject seems most relaxed. It is in your best interest to let the painter take these himself. Owens may do a quick "color study" of the portrait painting at this point to record certain colors accurately.

There are no big surprises because Owens will compose the portrait painting in the form of a sketch before actual work is begun. The sketch will show how the subject and additional objects are positioned, the direction of light and so on. Towards the end of the portrait painting Owens may need the subject to come and sit for awhile in order to finish details.