Moldmaking is one of the services that I offer, mostly to other artists. These molds are usually 2 or 3-piece rubber molds with plaster or FRP (fiberglass reinforced plastic) mother molds. Usually, the object being molded is a sculpture "in the round" under 33 inches tall or a relief sculpture under 36 x 36 inches.

These are usually straightforward, low-volume production or provisional molds made using traditional artist's methods rather than "block molds" - although I can make those too.

Most of my moldmaking experience derives from making molds to cast my own work. Additional experience comes from a few assignments in the "scenic" or "themed entertainment" industry.


RUBBER MOLDMAKING EXPERIENCE INCLUDES

Silicone Rubbers, such as:
Tin and Platinum based rubbers, in both Brush-on and Pour-on types

Silicone Rubber Additives, such as:
Catalyst Acceleraters, Thixotropics, Hyper-Folics and Thinners

Urethane Rubbers

Alginate Rubbers, such as:
"Alja-safe"

Facial Casting Rubber, such as:
"Body Double" Silicone Rubber

Mother molds, made of:
Fiberglass Reinforced Plastic (FRP)
Plaster, "Super Plasters" such as Hydrocal and Ultracal, utilizing other strength-enhancing materials such as open-weave burlap and fiberglass strands.

Other Specialty Rubbers, such as:
"Dragon Skin"


HARD MOLDMAKING EXPERIENCE INCLUDES

Small Hard Molds utilizing standard materials, such as:
Gel coat and FRP





A FEW PHOTOS of MOLDS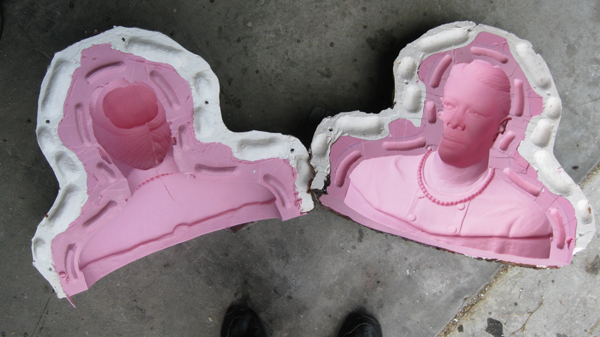 A standard, old school, "2-piece" silicone mold with hydrocal mother mold. All parts key to each other. This was used to cast the wax pattern for the St. Augustine Foot Soldiers Monument.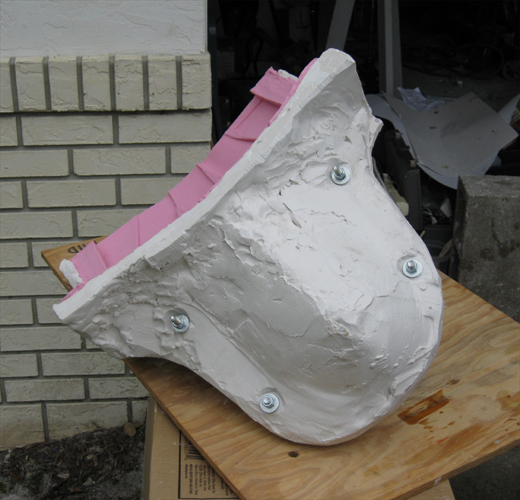 This is the same type of mold as shown above but connected together. This was used to cast the wax pattern for the bust of Robert W. Saunders.







This is an open faced silicone mold with a wood-reinforced, hydrocal mother mold. Rigidity and structural perfection were critical in the case of this mold, since the bronze produced in the end had to mate precisely to another bronze surface. This is the mold used to create the wax pattern for the relief sculpture in the St. Augustine Foot Soldiers Monument.







I had the pleasure of briefly working with sculptor Marton Varo near the beginning of his commission for Ava Maria University.

I produced 16 molds of a scale model that existed in the form of 16 separate marble parts. These marble parts were very heavy. They fit together precisely and represented what the sculptor - Marton Varo - intended to sculpt on a much larger scale. His final marble sculpture was so large that it had to be sculpted in sections, so he produced his scale model that way. He needed lightweight, accurate parts that he could take to Italy to help him "rough out" enourmous blocks of white carrara marble; something he could easily carry up and down scaffolds.

So I used the molds to produce 16 lightweight replicas consisting of thin industrial plastic filled with urethane foam that was similar to balsa wood in density. These were shipped to Italy. The casting shown in the photo above probably weighted 7 LB.