"In the Czech Republic ... (Woodrow) Wilson is a rock star."

Patricia Sullivan, Columnist, The Washington Post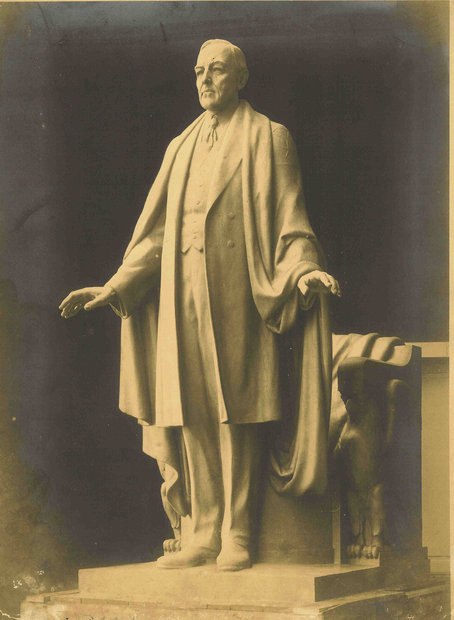 Photo courtesy of Polasek Museum and Sculpture Gardens


Albin Polasek's enourmous bronze sculpture of President Woodrow Wilson unveiled in Prague in 1928. My head would have been as high as its knee.
It was destroyed it in 1941, probably by German forces occupying Czeckoslavokia.
In 2011, a duplicate was created and installed in Prague, using a mold of the head that still existed and old photos like the one above. The Polasek Museum in Winter Park, Florida was commissioned to execute this project.

A four foot tall plaster model, mostly hollow, was created as a reference to help make the larger duplicate. The plaster model was recently shipped to it's new home:
The Polasek Museum.
But it was in need of repair.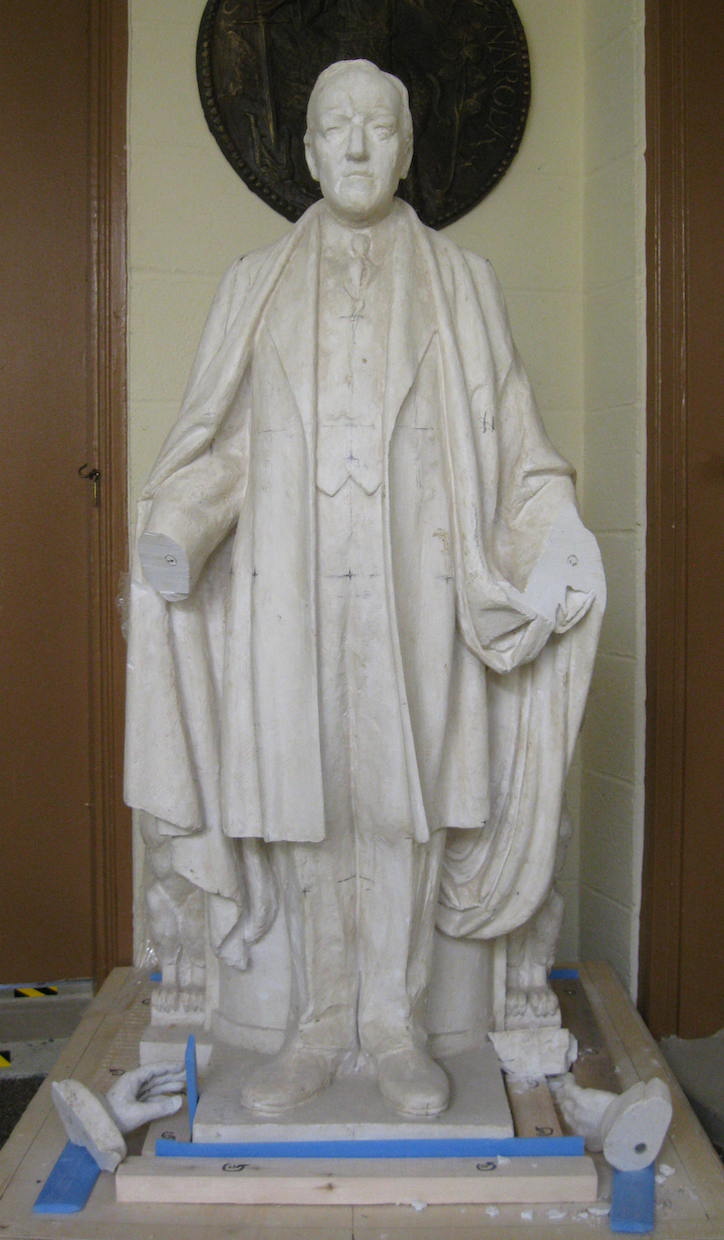 The Statue Repair / Sculpture Repair Mission:
Replace the plaster hands, reconstruct a demolished corner of the base, repair the broken neck and other smaller damaged areas. Remove loose dirt and pencil marks. Then clean the surface enough to improve its appearance while retaining the patina-like effect that makes it more interesting than it would be if the surface was uniformly white.







Steel threaded rods (or an equivalent) are considered a "best practice" in this sort of statue repair / sculpture repair. It's good to combine an adhesive with a mechanical connection. An aluminum spacer fits in here also, to add the space taken by the saw blade that cut these hands off. Without a spacer, the edges of the suited forearm did not fit correctly.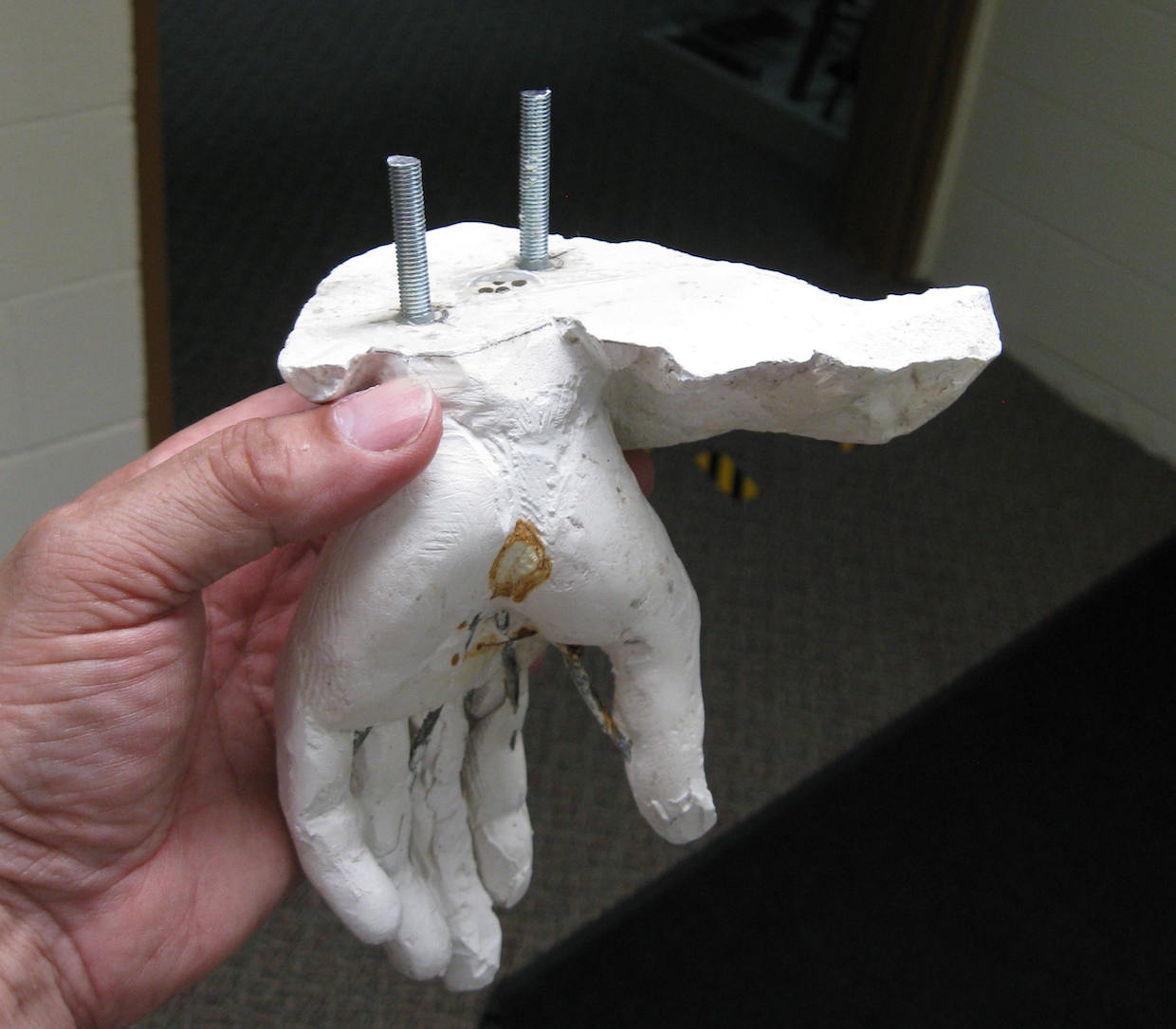 The same was done to the other hand. Steel lives inside each of those fingers as you can see. That's why the fingers are still on. This plaster model was a provisional tool used to mark up with a pencil and pull measurements from. It was not intended to be a museum piece.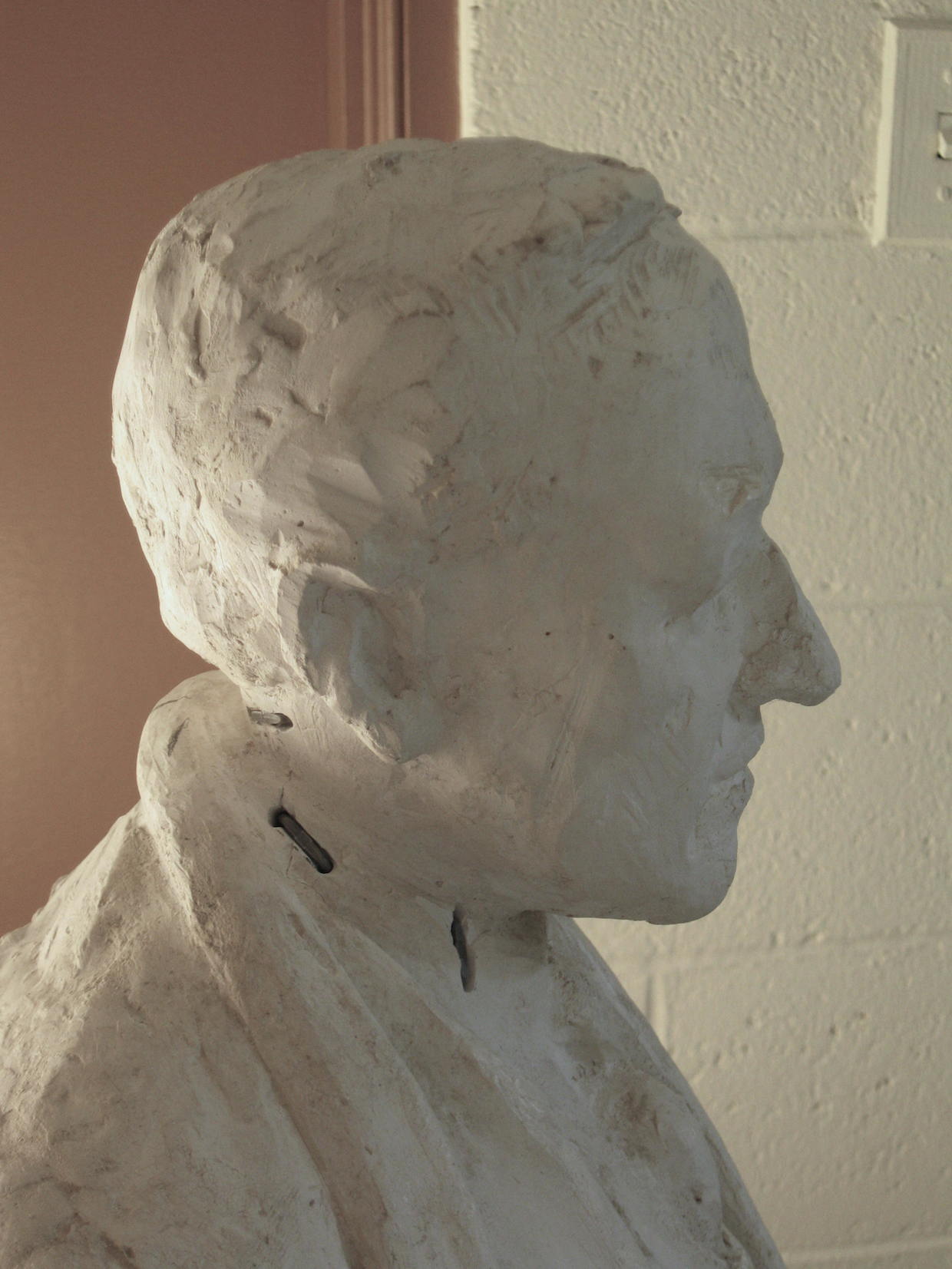 The neck was cracked around its entire circumference but the crack barely opened to one millimeter. The head was held nicely by burlap within the plaster and in no danger of breaking off. I installed some large steel staples (below the surface) to stabilize the neck and then cosmetically treated the crack. There are simpler ways to do this if the head is solid but this plaster model is mostly hollow.







I discarded about half of the plaster from this demolished corner and kept the largest pieces. The brown shape that you see within is burlap.







After the corner was reconstructed, I installed a portion of this threaded steel rod as a reinforcement.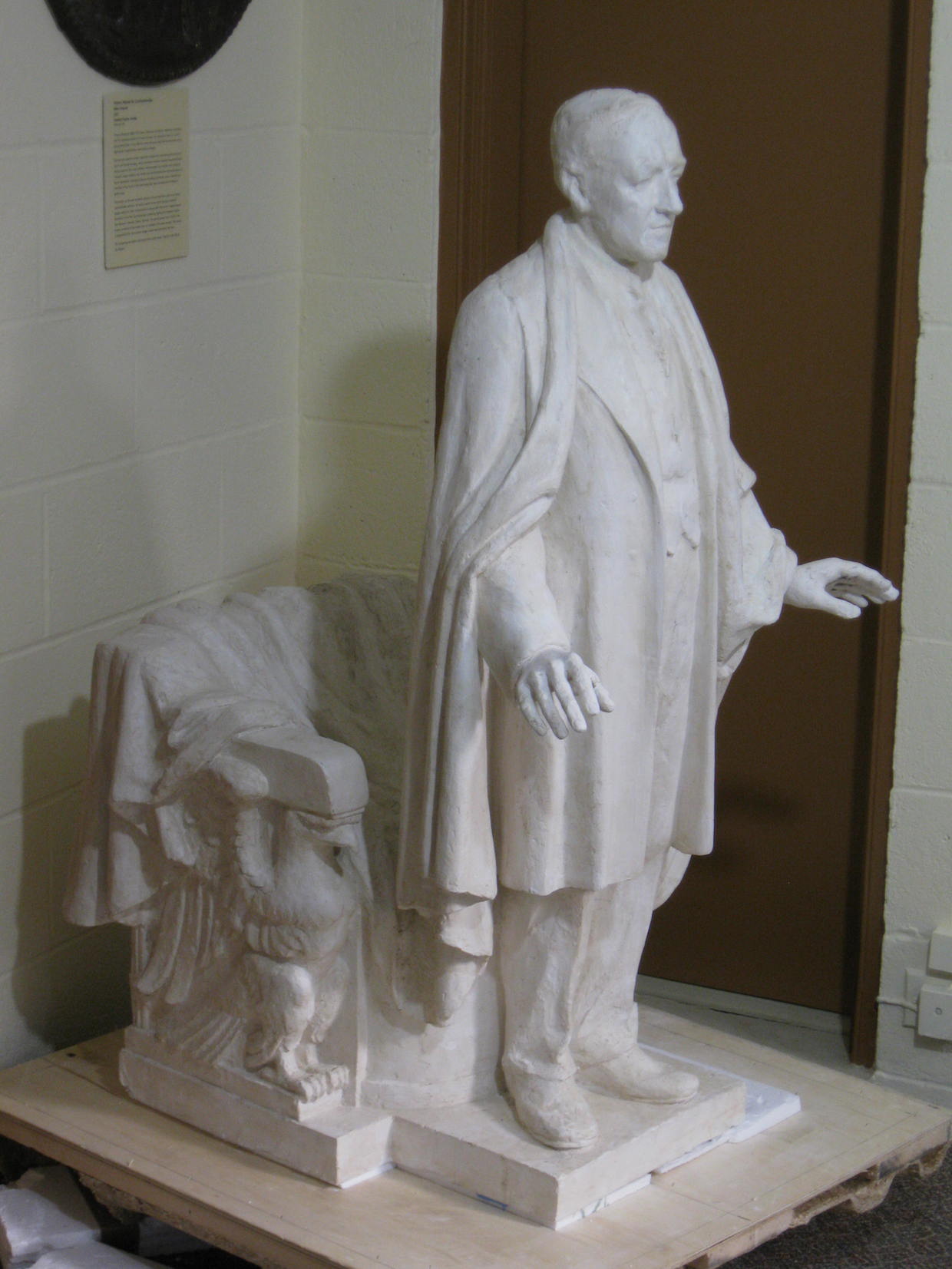 Loose dirt was removed with various non-abrasize brushes and vacuumed away using very little water and no solvents. Gum erasers removed most of the pencil marks and lots of surface dirt. In the process, the surface got lighter as you would expect. But you have to use care when cleaning dirty plaster, especially old plaster. Its a mistake to lighten the entire surface arbitrarily. As an artist, you have to know what areas to lighten. The eye needs for some areas to be lighter than others in order for the sculpture to retain its form. This is especially true for the face.








The Completed Sculpture Repair / Statue Repair

Ours was a reasonable approach. Absolute perfection was not necessary in this case. The repairs are essentially invisible to the general public since they are not looking for them. It may not be possible to get the surface perfectly clean but we made it work for us and it looks great.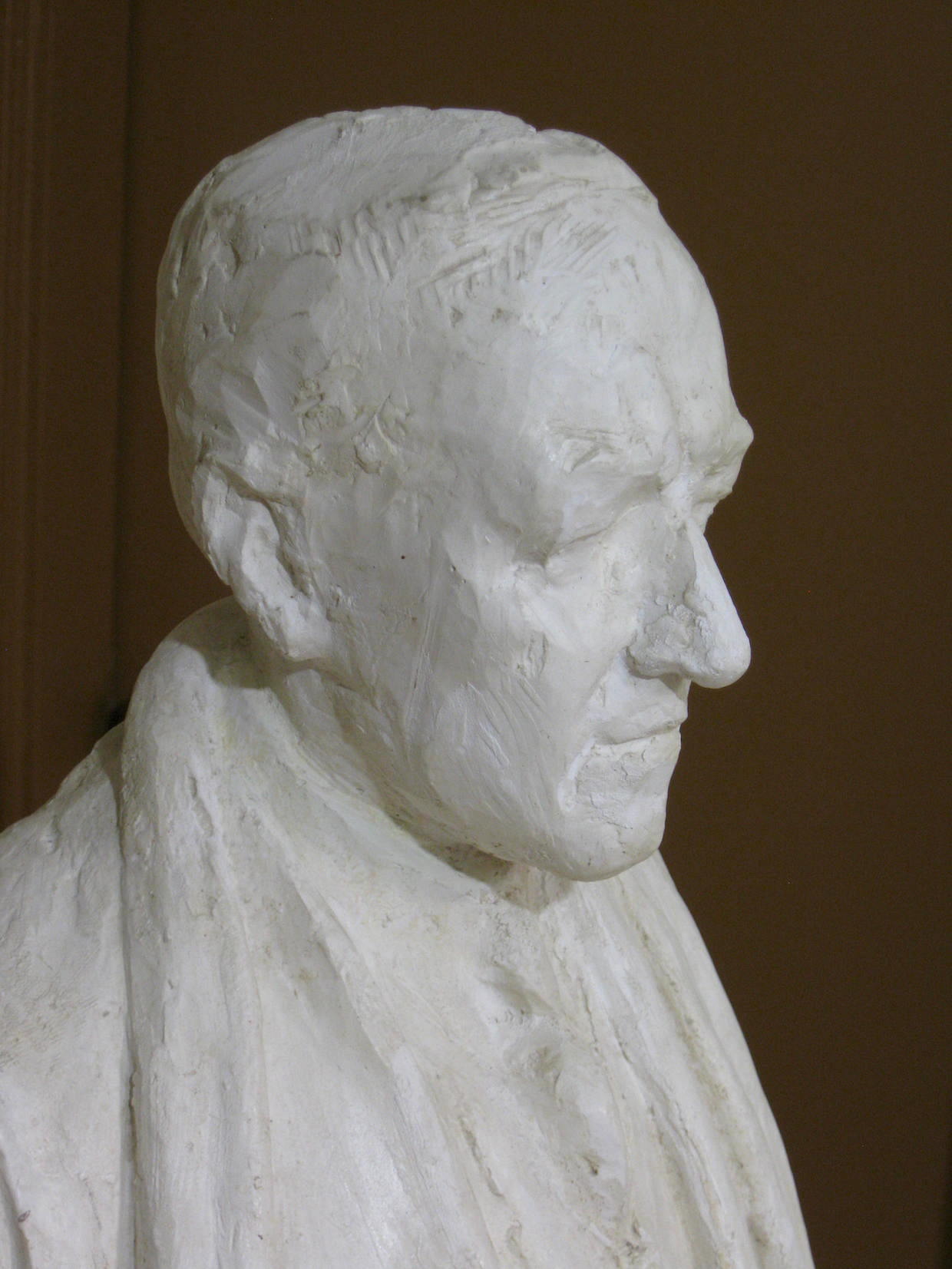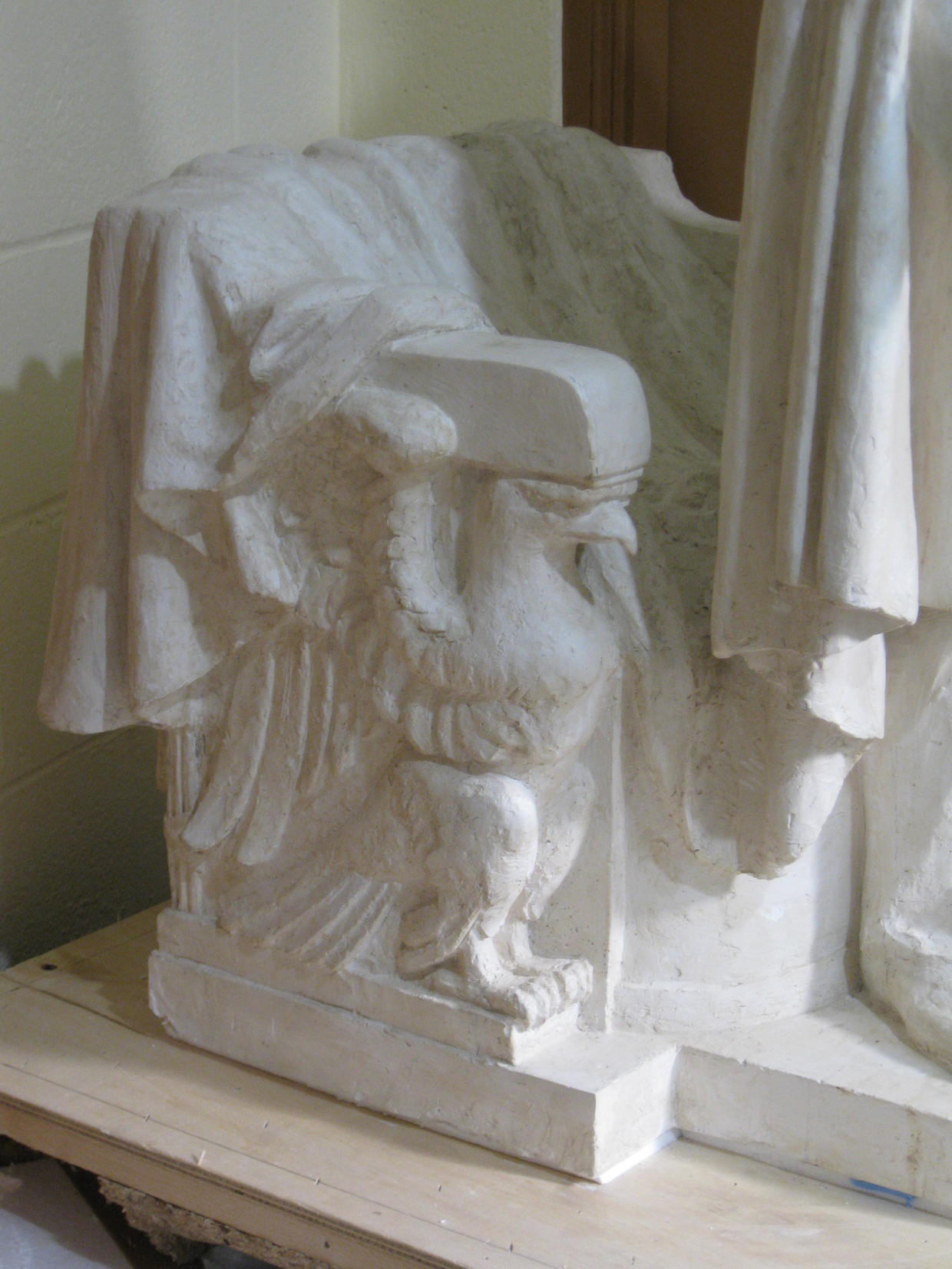 Sculpture Repair / Statue Repair

Some Final Notes

I began the repair with a very cautious plan for cleaning the surface as I thought this plaster was modelled by Albin Polasek himself. It certainly looked old enough. Also, not all plasters are created equal. This is a soft, regular plaster not a hard, modern "super plaster" such as Hydrocal that I occasionally use. An old plaster is especially susceptiple to yellowing if excessive water is used to clean it and I certainly wanted to avoid that possibility. So I got acceptable results with bristle brushes, a shop vac, a little spray bottle, a T-shirt and a gum eraser. Yes, a gum eraser.

As it happens, this plaster was cast only a few years ago by the people who duplicated the enourmous bronze in 2011. Albin Polasek almost ccertainly made one like it back in the 1920's but it's long gone. The moral to this story is this: When cleaning plaster, do your homework beforehand and let your working assumption start with the maxim
"less is more".